Rhinoplasty Surgery or Cosmetic Nasal Surgery
Vancouver Rhinoplasty Clinic offering Services & Treatments – Before and After Cosmetic Nasal Surgery Pictures
Every year over half a million people in North America who are interested in improving the appearance of their nose seek consultation with a facial plastic surgeon such as Dr Bartlett. Whether it be the nose you inherited or a change related to aging or an injury, nothing has a greater impact on how a person looks than the size and shape of the nose. Because the nose is the most defining characteristic of the face, a slight alteration can greatly improve one's appearance.
BEFORE AND AFTER PICTURES OF DR. BARTLETT'S PATIENTS
Dr Bartlett likes to have a thorough discussion of your goals and expectations of cosmetic nose surgery. Skin type, ethnicity and age are important factors to be considered. Since there is no one ideal in cosmetic nasal surgery, the goal is to improve the nose esthetically, making it harmonize better with other facial features.
Use of state of the art computer imaging enhances your evaluation. This enables you to set a reasonable goal; a nose that you like which is also surgically possible using the various techniques that Dr Bartlett employs. We wish to ensure you are seeking rhinoplasty because you want it, not to please others. Also our patients understand that rhinoplasty may improve their profile, not give them someone else's. View below a selection of Pre and Post operative pictures of Dr Bartlett's patients.
Rhinoplasty and Cosmetic Nose Surgery
This patient has relatively thin skin and thus with rhinoplasty a sharper tip can be achieved. With thicker skin, it is difficult to get as sharp a tip but also with this skin type it may not be desirable. Click on image to enlarge.
Nasal Surgery Before and After
This patient has a more challenging issue with the entire nose being overprojected i.e. further out from the face than desired. The goal of rhinoplasty was to lower the entire nose. Because of the degree of reduction necessary, this was done with an external rhinoplasty approach. This involves a small incision at the base of the nose. Notice the marked change in the size of the nose while still maintaining a natural look to the nose. The tip cannot be made as angular or sharp as the patients illustrated above on account of a greater skin thickness. This is not a drawback however as a sharp nasal tip would not match her overall features and skin type. Click on image to enlarge.
Marking indicates position of incision for external rhinoplasty. This heals extremely well with no evident scarring.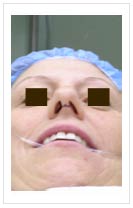 This patient was mostly concerned about the hump on her nose and in fact the tip did not have to be set back as much as the previous patient. The changes were therefore achieved all through internal incisions- i.e. endonasal rhinoplasty.
In some rhinoplasty patients, there is not a desire to make the nose smaller but rather augment or increase the size of the nose as can be seen with the next example. Click on image to enlarge.
This patient underwent augmentation of the bridge of the nose. This can be done with a variety of materials but generally involves placement of a graft of your own cartilage or at times use of a synthetic implant such as Goretex®.
An important part of the evaluation includes analysis of your chin. People who want rhinoplasty to make large noses smaller often may benefit from balancing the profile with augmenting what may be a 'weak' chin as a weak chin may make your nose look more prominent. This is referred to as chin augmentation surgery. Click on image to enlarge.
Rhinoplasty with Chin Augmentation
This patient has undergone chin augmentation in conjunction with rhinoplasty. Click on image to enlarge.