Chin Augmentation Surgery – FAQs
Read below commonly asked questions about chin augmentation surgery (Mentoplasty).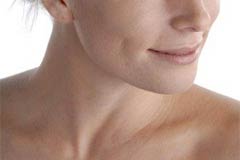 How is Chin Augmentation Surgery done?
Anesthesia
As with most facial plastic surgery, chin implant surgery is usually done using a local anesthetic with intravenous sedation (twilight sleep). This is safer, eliminating the risks and side effects of a general anesthetic.
Chin Augmentation Procedure

To augment the chin, Dr. Bartlett begins by making an incision either in the natural crease line just under the chin or inside the mouth, where gum and lower lip meet. By gently stretching this tissue, a space is created where an implant can be inserted.
This implant, made of a synthetic material (usually silastic) that feels much like natural tissue normally found in the chin, is available in a wide variety of sizes and shapes. This allows custom fitting of the implant to the configuration of your face. After implantation, Dr. Bartlett uses fine sutures to close the incision. When the incision is inside the mouth, no scarring is visible. If the incision is under the chin, the scar is usually imperceptible.
What should I expect after chin augmentation surgery?
Immediately after surgery, Dr. Bartlett applies a dressing which is replaced the day after surgery with an elasticized garment that you wear for a week. You will experience some tenderness that will be controlled with prescribed medications. Chewing will be limited immediately after chin surgery, and a liquid and soft food diet may be required for a few days. Most patients feel a stretched, tight sensation after the surgery, but this usually subsides in a week.
After approximately six weeks, most swelling will be gone and you can enjoy the results of your procedure. You should avoid activity for the first few weeks after surgery. Normal activity can be resumed after approximately ten days.
When can I return to work?
Most people return to work within seven to ten days.